Brooke Adams, Adults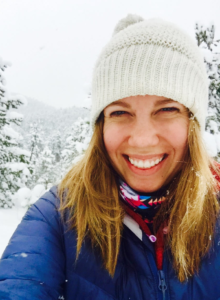 I am originally from Spooner, WI and grew up skiing in the woods of northern Wisconsin.  I moved to Whitefish in June from Denver, CO and am loving life in the Valley.  My love for ski training and racing began in High School and followed through to racing for The College of Saint Scholastica in Duluth, MN.  I have experience coaching private lessons, youth ski leagues, and various masters camps and clinics. My favorite thing about cross country skiing is that it brings people of all ages together to frolic in the woods…such a magical thing!  I am excited to be involved in GNST this winter and share my love of the sport!
Mark Ambre, Co-Manager Glacier Nordic Shop & Ski School
Mark's that guy you see riding up Big Mountain with Nordic skis strapped to his bike — in October.  He comes to Glacier  Nordic Shop with twenty seasons of experience as the Izaak Walton Inn's ski pro. Mark grew up working in bike shops near Washington D.C., bike toured out to MW Montana, and hasn't left for long, except to spend some summers surfing in California.  Previously certified as a Level II PSIA instructor, Mark looks forward to re-certifying this fall.
Cameron Blake, Executive Director, Head Prep and Adults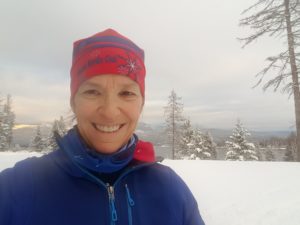 Cameron took the reins as part time Executive Director of Glacier Nordic Club in the 2016-17 season allowing her to combine her non-profit expertise with her love of Nordic skiing.  Cameron was formerly the Executive Director of North Valley Music School from 2004 to 2010 and has served on the Board of numerous non-profits. Prior to moving to the Flathead she worked in real estate investment banking and finance.
Cameron has taught Nordic skiing since 2001, starting with Chet Hope Youth Ski League. She loves sharing her knowledge of skiing and coming up with creative teaching games and drills for the ski team kids or instructing adult clinics.   Over the past six years she has coached Prep Team, Junior Jets and adult lessons and clinics.  She also coached a season with the Bridger Ski Foundation  in Bozeman and skied with their competitive master's program.  She has fun racing the longer distances.   Cameron holds current PSIA Level 2, USSA Level 100 and Wilderness First Aid Certifications.  Her children share in her passion -, her son Connor ski raced for Glacier Nordic and Bridger Ski Foundation and is in his last year of collegiate racing for Bates College in Maine,  her daughter Barrett skied with GNST and coached Jets in her last two years of high school and son Willem skis with the Comp/Rec Team.
Robin Brooks, GNST Director and Head Jets 
This is my sixth season coaching for GNST.  I first moved to Whitefish in 2010 to coach the Competition Team (14-18 year old skiers), then moved into leading the Jets program in 2013. Besides my roles with the Glacier Nordic Club, I am a massage therapist, owning Heartsong Massage Therapy located in downtown Whitefish.
I grew up in Seattle, WA and skied on Snoqualmie Pass with my family and ski team.  Skiing became a full family activity with siblings, cousins, aunts and uncles, parents and grandparents all involved and on skis!  Much of my family ski instructed at some point, and my father built up and coached my ski team through high school.  I began racing at a young age with balloon races and continued through college in New York at St Lawrence University.
While everyone in my family has grown into different realms of skiing today: from my sister, Holly who is a two time Olympian, to my brothers who now just ski when they go out with the family; it continues to be a sport that we all love and connect around.  Some of my best memories growing up were traveling to races and training camps around the west with my ski team, making good friends from all over, and learning a love for the outdoors and athletics.  I'm grateful to be able to share my knowledge of and love for the sport with the next generation!
Virginia Bowland, Jets
Hi; I'm Gin Bowland. I grew up in Iowa. I studied Art and Music and got my BA from the University of Iowa. I moved to Missoula, Montana where I got my first classic skis, and met my husband James. His work took us to Sacramento, CA. We spent most of our free time there riding bikes- both road and mountain, and some amateur racing.
We moved to Whitefish in the fall of 2012. After one season of CHYSL my children Rachel and George wanted to join Jr. Jets. I started skate skiing so I could ski (keep up) with them, and I just love it! George is still enjoying Jr. Jets and Rachel is now on Prep Team. I coached for Chet Hope for the last two years, and I am looking forward to coaching Jr. Jets this year!
Cyril Burguiere, Jets
I have been coaching both the Junior Jets and Chet Hope as much 
as my job allows, having both my  daughters Erica and Isabel in those programs. I have coached several different sports in the past, but got inspired to coach skiing after seeing the positive effects on my own girls and myself being plain old dad teaching them to ski in Oregon, Quebec and Vermont.
We really fully immersed ourselves in the lifestyle of skiing several years ago while living close to snow in Oregon and it really is the greatest thing in the world! It has bonded my family, created amazing memories and kept us outside.
My family and I moved back to the Flathead Valley in June 2015 and joining the Glacier Nordic Club, meeting kids, parents and coaches has been a main highlight. I recently got PSIA certified as a coach and plan to continue progressing my knowledge and competitiveness in the sport.
For me personally, cross country skiing keeps me competing in the winter and supplements my training to compete in stand up paddling races in the summer where I compete at an elite level. Last winter, I won Whitefish's annual Glacier Glide Pursuit and participated in my first American Birkebeiner in the Classic style where I am proud to have double poled the entire 55 km.
Hannah Callahan, Jets & Prep
This will be Hannah's third year coaching Glacier Nordic Ski Team. She was raised in Minneapolis and skied competitively throughout middle school and high school with the Southwest Nordic Ski Team.  She comes from a family of avid skiers and loves sharing this lifelong sport with others.  Hannah also teaches downhill ski and snowboard lessons at Whitefish Mountain Resort in the winter.  In the summer she works for Glacier Guides as a hiking and rafting guide in Glacier National Park. In her free time she likes to hike, bike, fish and travel.
Paul Conrad, Adults
Paul has a long history of skiing Alpine and Nordic.  He started teaching Alpine Skiing at Winter Park and Mary Jane at the age of 15 and continued for 13 years.
Touring in the mountains of Colorado was also a favorite.  Then came ski skating!  Paul remembers vividly the first time on skate skis at Devil's Thumb Ranch and fell in love with the sport.  He competed in many Colorado races in the 80s and 90s while continuing his Alpine teaching.  His passion for competition first in Bicycling, where he competed Nationally in Road and Track, carried over to Skate Skiing.  He has accomplished age group podium finishes in the Nationals and other races to include the Boulder Mountain Tour qualifying for the elite wave. The Master World Cups in McCall, Idaho and Silver Star, Canada were highlights finishing in the top 10.  Paul feels the challenge of the technique of his skate skiing has improved for him by being certified as a PSIA level I instructor.  Complimenting his teaching and competition are the degrees he has from the University of Colorado in Exercise Physiology and Physical Therapy.  For him to say he loves skate skiing as much or more than bicycling says a lot.
Ellie Johnson, Adults
Ellie has been involved in the local Cross Country Ski Community as a Glacier Nordic Club Board member and President, fundraiser, and coach since moving to the valley in 2002.   She discovered her passion for the sport, both Freestyle Skate and Classic in the early 1990s in Jackson Hole, Wyoming, where she competed in many ski marathons and trained with Nationally ranked skiers.   A couple of highlights have been to compete in the Masters World Cup Races in 2008 and 2011 amongst nordic enthusiasts from around the world.  She became a PSIA instructor in 2012 trained by Brenda Winkler.  Now a Level II instructor, Ellie has coached the Junior Jets, has been an instructor at the Glacier Nordic Center and at the Izaak Walton Ski weekends. Although her racing days are mostly behind her, she is passionate to share her love of the sport and pay it forward as an instructor and mentor!
Peg Havlovick, Co-Manager Glacier Nordic Shop & Ski School, Head Chet Hope Youth Ski League
Peg comes to the Glacier Nordic club with 15 years Nordic ski management experience! She was born and raised in Polson, MT which inspired the love of the outdoors and a recreation filled lifestyle. Many years were spent coaching and teaching prior to employment in the recreation industry. Peg is PSIA Level 3 certified and looks forward to the excitement of the Chet Hope League as well as instructing adults.
Stella Holt, Head Comp/Rec 
Stella Holt grew up in Whitefish, MT and learned how to cross country ski through the Glacier Nordic program. She started racing regionally and then nationally at age 13 and raced through school in Vermont at Middlebury College. After earning a degree Film and Media at Middlebury, she retired from racing and returned home to Whitefish to coach the Glacier Nordic Ski Team and to take over Great Northern Cycle & Ski with her boyfriend, Willie Hobbs. She loves mountain and road biking, alpine skiing, and working with young cross country skiers.
Ed Nissen, Jets
Everybody's favorite coach hails from northern CA.  Although I've been in Whitefish for 25 years, I didn't start skate skiing until two years ago.  Last year I became a PSIA certified Nordic ski instructor.  It's great fun coaching the kids, and you parents should get out and join us.
You can find me skiing on the BIG or at Rocky Mountain Bank originating mortgage loans.  Believe it or not, summer is my favorite season, and never long enough for me.  Ski fast, take chances, and see you on the snow!
Jesse Opel, Glacier Nordic Shop & Ski School
Brenda Winkler, Comp/Rec
Brenda has been Cross Country skiing since the 1980's and racing competitively since 1999. She has instructed and coached youth and adults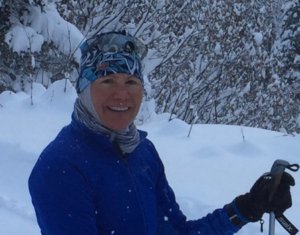 since 2001, starting at Bohart Ranch in Bozeman, Montana. Brenda moved to Whitefish in 2006 and in 2007 joined the Glacier Nordic Club board and over the years had the opportunity to run masters clinics, Tuesday Night Relay Races, and be a GNST prep team coach. Brenda is a certified Professional Ski Instructors of America (PSIA) Level III Certified Cross Country Ski Instructor, a United States Ski and Snowboard Association (USSA) Certified Coach, a member of the PSIA Nordic Education Staff, and Chief Examiner of the PSIA Northern Rocky Mountain Division. Brenda is also certified in Wilderness First Aid . Brenda is passionate about the outdoors and sharing her love of skiing with others and is especially excited to join Stella Holt as her assistant coach this season.  For more information about Brenda explore her website www.brendawinkler.com