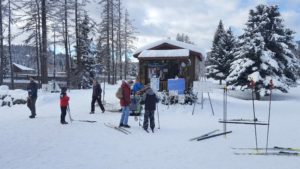 We groom each morning for both skate and classic,  conditions permitting. Please check our

Trails and Grooming Page for daily grooming reports.  Please stay on the groomed trails.  No off trail skiing is allowed. 
About Glacier Nordic Center
Glacier Nordic Center is located one mile west of town at the Whitefish Lake Golf Course. Park on the north side of Hwy 93 by th Whitefish Lake Restaurant, The Center includes the Glacier Nordic Shop and 12k of groomed trails; 4k is lit for night-time skiing from dusk until until 10 pm.  Glacier Nordic Club grooms and maintains the trails.
Flat and rolling terrain accommodates skiers of all ages and abilities. A day pass or season membership pass is required to ski the course. Purchase your day pass or membership, rent gear, take lessons and more at the Glacier Nordic Shop  406.862.9498.  You can also purchase your membership online.

Trail Map for the Glacier Nordic Center at Whitefish Lake Golf Course
Dogs, Walkers, Bikes & Snowshoes: Not permitted on the course.
Directions to the Course: From downtown Whitefish, travel west out of town on Route 93 W for one mile. The Nordic Center will be on your right.