Thank you Whitefish Mountain Resort for getting a temporary  bridge in and running their groomer  over the damaged trail to repair them.  We opened on 12/26.  PLEASE USE THE NEW TRAIL HEAD AND DO NOT PARK AT WHITEFISH MOUNTAIN RESORT.  THEY WILL BE TOWING.   
We groom the Upper Big Mountain trails every day with the goal of completing by 9 am unless we get a snowfall so big and/or wet that we are unable to get it accomplished with our equipment.  Iron Horse Golf Club grooms the lower trails.  Check the  Trails and Grooming page the grooming status for all trails.    We set classic track when conditions permit.
Here is the new map for this year! A big thank you to Whitefish Legacy Partners and Iron Horse Golf Club for collaborating on the map. BMNT Map 8.5×11 to print.
About the Big Mountain Nordic Trails – 23 k of some the best skiing in Montana
This year we have a new trail head and access trail  at 3315 Big Mountain Road, about 1/2 mile past Ptarmigan Village.  This trailhead and a new access trail is part of the Whitefish Trail and Glacier Nordic (through memberships and Great Fish Challenge monies) contributed about half of the $100,000 cost.  The trail head has space for 30-40 cars, a vault toilet and trash cans.  THERE IS NO LONGER ACCESS FROM OR PARKING OR WHITEFISH MOUNTAIN RESORT.
The 23k of trails (3 k new added this year)  are snowmobile groomed daily, as conditions allow.  The upper trails (11 k) are groomed by Glacier Nordic Club and the lower trails are groomed by Iron Horse Golf Club (12k).  A fee is not required to ski the trails!  Iron Horse Golf Club donates their grooming.  Glacier Nordic, a non-profit,  supports their grooming through annual memberships and donations.  Purchase your annual membership or make a donation at the Glacier Nordic Shop located at the Whitefish Lake Golf Course or purchase your annual membership online.  Or drop some $ in the Glacier Nordic/Whitefish Trails donation box at the trail head.  thank you.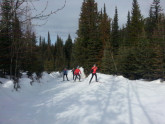 Big Mountain Nordic Trails have advanced and expert terrain and snow conditions. Expect steep and curvy descents and challenging climbs back to the trail head.  There is some easier terrain at the start to get your ski legs under you.
Ownership: Winter Sports Inc, both directly and through an easement to the City of Whitefish; F.H. Stoltze Land and Lumber; Montana Department of Natural Resources and Conservation and private land owners.  Please respect the use restrictions as signed and thank these land owners!  
Fat Bikes:  are not allowed on Big Mountain on Whitefish Mountain Resort (WSI) property, but are allowed on the other trails.  The large ruts made by fat bikes are hazardous to x-c skiers and are very difficult to remove, please only ride when conditions allow without trail damage and stay to the side of the trail. 
Snow shoes: are allowed – please stay to the side of the trail and take alternate trails where provided.
Dogs:  Yes but must be on a leash on Whitefish Mountain Resort land (new trail head and easement too)  You will clean up after them, yes? Of course you will!
Ski Rentals: Classic and skate ski rentals (includes boots and poles) are available at the Glacier Nordic Shop.

Trail Access: 3.3 miles up 3315 Big Mountain Road, 3.3 miles, about 1/2 mile past Ptarmigan Village on the right as you are headed up the road.
Directions to the Trails from Downtown Whitefish: Head north out of Whitefish on Baker Ave. Once over the viaduct, the name of the road changes to Wisconsin Ave. Drive north on Wisconsin for 2.1 miles, then turn right onto Big Mountain Road. Drive for 3.0  miles and the trailhead will be on your right.